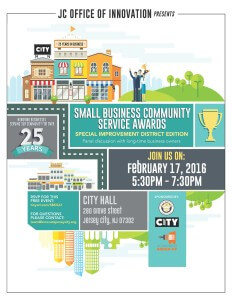 Join the City of Jersey City and the Special Improvement Districts as we celebrate longstanding businesses who have been serving our community for over 25 years!
One business owner from each district will serve on a panel to share their secrets to success, how they have changed with the times, and what they love about owning a business in Jersey City. If you are a new or aspiring business owner, this is your chance to learn from the pros!
Agenda for the evening:
5:30 – 6:00 Light refreshments
6:00 – 6:30 Small Business Community Service Awards (Special Improvement District Edition)
6:30 – 7:15 Panel with Select Business Owners
7:15 – 7:30 Networking for New and Established Businesses
The following businesses have been nominated by their Special Improvement Districts to receive the first in a series of Small Business Community Service Awards:
Renato's Pizza Masters
King's Sons
Baines Family Dental
Prince Restaurant, Nick Falotico
Our Hero's, Al Pilone
Chicken Delight, Roger Hejazi
Square Ramp Parking
Lord's Children's Clothing
Travel World
Manzo Uniforms
Crazy Greek
Hosiery & Things
Morlees
Helens Pizza
Downtown Hardware
If you have any questions, please reach out to the Office of Innovation at team@innovatejc.org. We look forward to seeing you there!