Pop Up Jackson Hill is a micro-entrepreneurship venture that creates a temporary pop up venue by converting four shipping containers into a community centered retail and art hub. Pop Up Jackson Hill will serve as an entrepreneur incubator for small business owners and provide no cost storefronts in a formerly empty lot across from the newly built City Hall Annex that currently houses 250 employees and welcomes hundreds of visitors daily. This multi-agency placemaking project was created in partnership with the Jackson Hill Main Street Management Corporation, the City of Jersey City (Office of the Mayor, Department of Administration, Department of Public Works), the Municipal Utilities Authority, and the Jersey City Redevelopment Agency.
Costs & Projected Cost Benefits
Businesses will be provided with free rent and utilities. Based on comparative rent in the area, that equates to approximately $1700 per month per business, with an approximate 6 month savings of $10,000.
The City, the Jersey City Economic Development Corporation, and Rising Tide will also provide free professional development to businesses as well as offer additional promotional opportunities.
The City provided all materials and labor to construct the space at an estimated initial investment of $150,000. After 5 years, this initial investment will lead to over $400,000 in direct impact for local Jackson Hill businesses.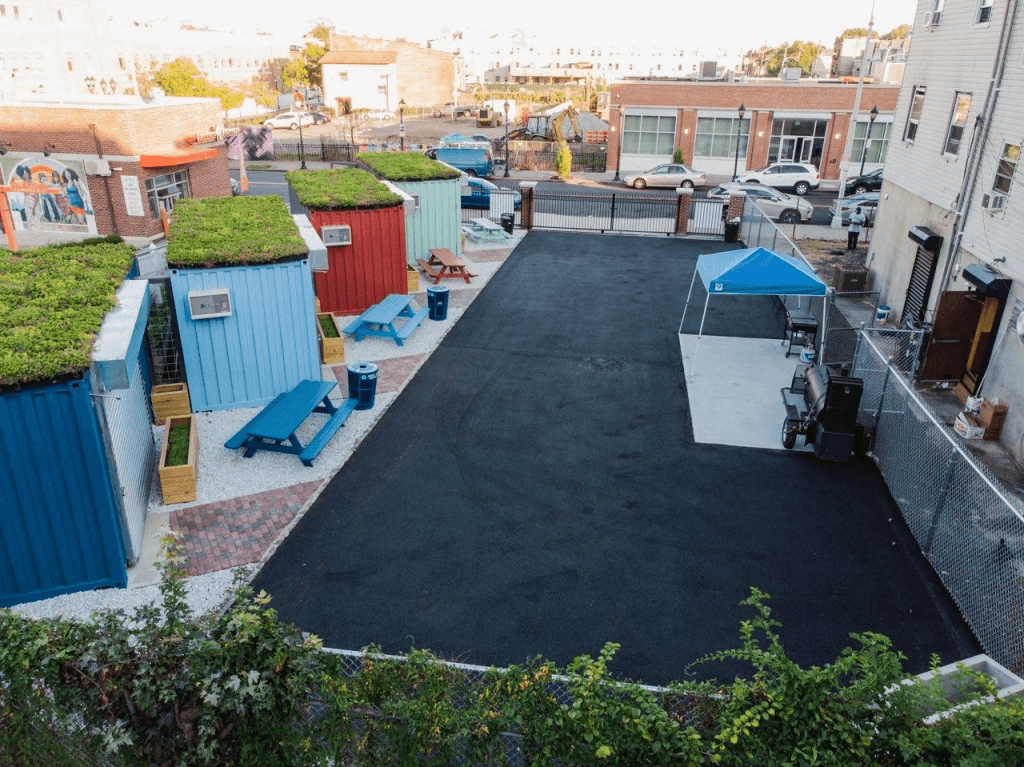 The Containers
There are four shipping containers (8'x20') called "trippers" because they have been on only one trip before they were taken out of service. Each container is watertight and weatherproof. The containers will be used as temporary structures with electricity that will come from outdoor outlets built near the foundations, similar to a mobile home. Each container has the capacity to provide space to 2 and 3 tenants.
Their conversion into usable space includes:
Flooring installation
Insulation and drywall on the walls and ceiling
7'x7' window and a glass door (made with energy efficient insulated glass)
Inward swinging glass doors
Concrete steps will be at the foot of each door
HVAC unit with air conditioning and heating
LED panel lighting
3 wall outlets
Interiors will otherwise be unchanged so tenants can create branded storefronts
Exteriors will be painted using the same colors as the Jackson Hill logo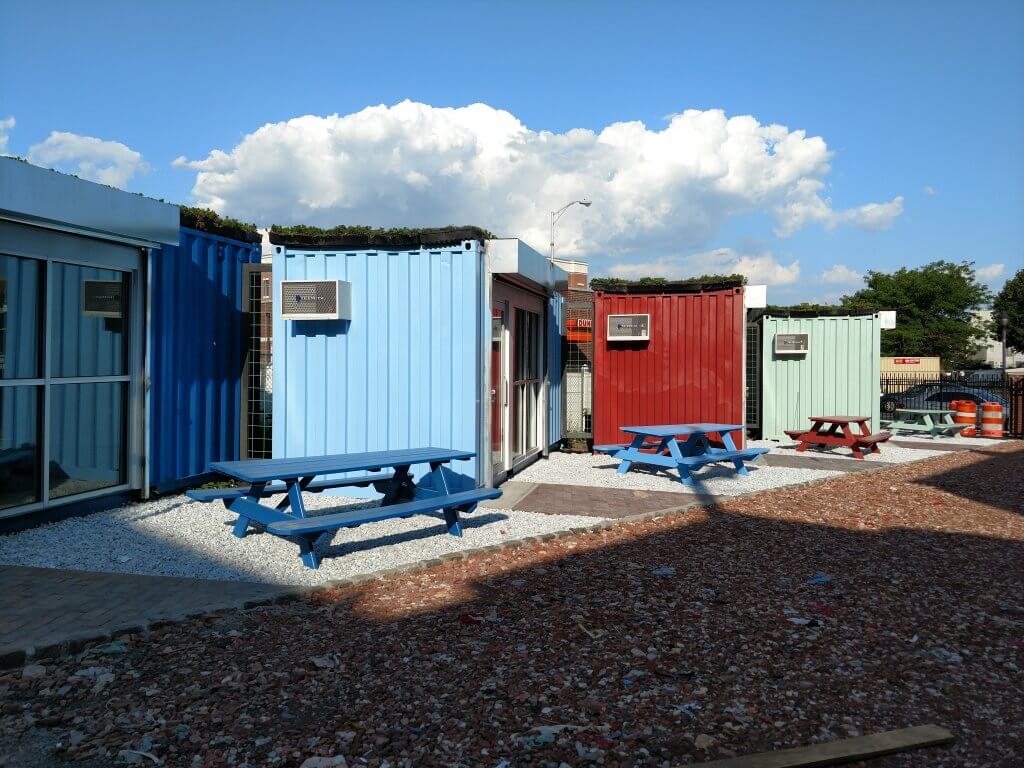 Management, Oversight & Vendor Experience
Through a one-year agreement with the City of Jersey City, Jackson Hill Main Street Management Corporation will oversee the entrepreneur incubator program. Pop Up Jackson Hill will be operational Wednesday-Saturday from Spring to late Fall operate during the hours of 11am to 6pm.
As a part of the residency, entrepreneurs are also invited to participate in better business practices workshops and mentorship opportunities led by the Jersey City Economic Development Corporation. Initial entrepreneur tenants will be selected thought a feeder program in collaboration with Rising Tide Capital's entrepreneur training program, the Community Business Academy. Further, entrepreneurs will receive ongoing business support curated by Jackson Hill that brings together Rising Tide Capital and Goldman Sachs to offer accounting, marketing, bookkeeping and other essential topics to managing and growing small businesses.
Visitor Experience
Alongside the shopping, food and entertainment will contribute to the placemaking efforts of Pop Up Jackson Hill.
Carolyn's Soul Food, (76 Orient Avenue), will utilize a 10'x20' concrete pad to install a barbecue smoker and grill so that Village patrons can sit at onsite picnic tables and enjoy a meal while they shop. Local food trucks will also enhance food options by serving lunch and dinner on site.
Jersey City's Office of Cultural Affairs will permit and assist with the organization of arts and music programming. Beautification efforts include planters with flowers and greenery, in addition to custom made signage and rotating artwork.
Sustainability
Beyond the recycled nature of the containers themselves, this site will be a demonstration site for multiple kinds of sustainable practices.
As a way to reduce localized flooding, the site utilizes crushed brick intended for landfill from demolished build-ups as opposed to a more traditional nonporous surface. A slight grade running from west to east further mitigates stormwater flow (from the property to the street's catchbasins.) Green roofing and rain barrels will also be installed for the purpose of water management and educational opportunities.
Waste management will be under the jurisdiction of the Department of Public Works, and will include both garbage and recycling immediately upon opening, with a forthcoming composting component for organic waste.
Security
Security will be provided by the West District of the JCPD, which will add a patrol to make regular visits to Pop Up Jackson Hill.
The property is enclosed by fencing on all sides. The entrance, located on the eastern side, is made of ornamental steel and has a 20' wide gate that rolls open on a track. The steel fence posts will be made of a red brick that matches the brick of the building directly across the street from the Village. The other three sides will be a 6' chain link fence.
Security roll doors cover the doors and the windows of each container, and will be pulled down and locked after business hours.
On the SW corner is a utility pole that provides power to the site. Atop the pole is a high pressure sodium flood light that PSE&G will be replaced with an LED flood light to illuminate the site in the evenings. The light will be on from dusk until dawn.