19 Jul

33,000 lbs of Waste Redirected from Landfills to Greener Gardens under Jersey City's First-ever Composting Program

Citywide Composting Success Expands to Include Curbside Pickup Pilot Program as Drop off Sites Reopen for Collection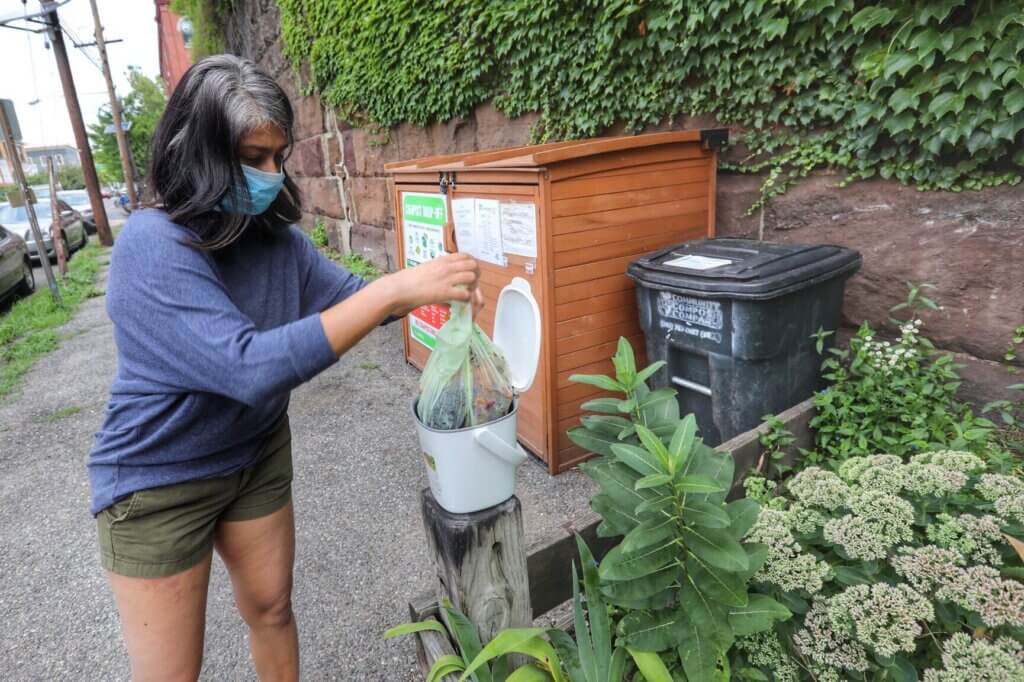 JERSEY CITY –Mayor Steven M. Fulop announced today the expansion of the city's successful Composting Program with the launch of curbside pickup and expansion of 8 community drop off locations citywide that include community gardens, religious institutions, libraries, and municipal buildings to encourage further composting efforts. Since the Jersey City program started two years ago, nearly 33,000 pounds of disposable waste has been diverted from landfills and has instead been used as nutrient-rich organic material to help fertilize home gardens, parks, and community gardens.
"We continue to expand our efforts in sustainability for a more resilient future, and our composting program has proven to be an effective way to help our residents who may not have home gardens or other means to naturally get rid of food waste. The tens of thousands of pounds of food waste we've already collected has been diverted from the typical route to a local landfill, reducing greenhouse gases, and effectively enhancing our community gardens to help plants grow," said Mayor Fulop.
The new curbside pickup component is the latest step to help further composting efforts. An electric bicycle will be used to travel citywide for food waste pick up collection and can carry 200 pounds of composting per trip. Residents who are interested in registering can fill out the Curbside Composting form.
Jersey City launched its first-ever composting efforts in 2018 with the Backyard Composting Program and Compost Drop Off Program. To date, the backyard program is ongoing; interested residents can receive free bins to process their household's kitchen scraps into finished organic compost for use in their own gardens. For residents without gardens but still wanting to compost, the city partnered with community gardens and religious institutions to create easily accessible drop off locations.
The city is now expanding these efforts to increase the number of drop off sites citywide from 3 up to 8 total to meet the growing demand and increase accessibility to encourage more participants. The drop off process is simple -residents collect food waste in an airtight container of their choosing, then simply drop off what is collected weekly at one of the city drop off locations throughout the city.
Compost serves as a natural fertilizer to help retain moisture for growing gardens and landscaping plants. The Jersey City Composting Program continues to offer free/discounted backyard composting bins, free workshops, and the opportunity to help further efforts to divert thousands of pounds of organic waste from landfills. Additionally, composting helps beautify our neighborhood gardens. Registration is now open for this year's community workshop being held on Friday, July 17th, 2020. Anyone looking to participate in the backyard composting program can sign up here.
The next scheduled drop off opportunity is this upcoming weekend, July 17-19. No registration is required. Residents can drop off their unwanted food scraps at any of the following drop off locations on Friday, Saturday, or Sunday:
Brunswick Community Garden
Five Corners Library
LCCS (Kensington entrance)
City Hall
Congregation B'nai Jacob
Pop Up Jackson Hill
Riverview Farmer's Market
Department of Public Works
For a complete list of what to include and exclude for composting please visit here. Please see the collected data tracked by the city since 2019. For more information on Jersey City's first-ever Composting program.
Please visit https://jcmakeitgreen.org/composting/